A Legacy for the Future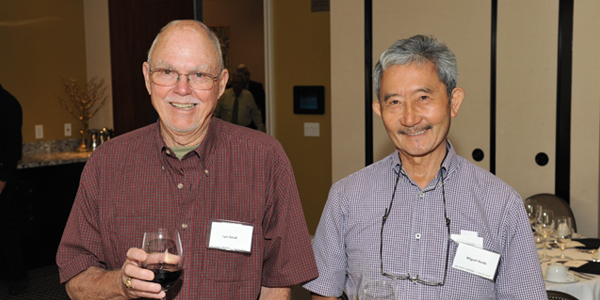 San Diego Symphony Legacy Society members Lyn Small and Miguel Ikeda strongly believe in the power of live orchestral music. Partners in life for 45 years, they recently decided to make a generous commitment to the San Diego Symphony through their estate planning. "It is important to us that the Symphony remain vibrant for future generations to enjoy," said Lyn, adding that they want their legacy to help ensure that the marvelous musical experiences they have enjoyed in Copley Symphony Hall at the Jacobs Music Center will continue.
Both Lyn and Mike grew up in families from humble beginnings. Lyn was raised an hour west of Albuquerque, New Mexico, and graduated in a high school class of 35 students. He went on to a career as a middle school educator. Miguel, Tetsuro to his Japanese parents, was born in Mexico where he helped the family by shining shoes and selling Chiclets, moved to Los Angeles at fourteen where he would later graduate from Cal State LA and become a clinical laboratory scientist. "We both feel very fortunate to have had the opportunities we have had and believe that it is important to share our success by supporting the causes we believe in," added Miguel.
"Hearing the Symphony in this beautiful hall, we marvel at how everything comes together; the composer's music, the conductor's direction, the musicians' artistry all creating an incredible experience for everyone" said Lyn. Miguel and Lyn's commitment to the Symphony's mission of Changing Lives Through Music is evidenced through their Legacy Gift that will impact future audiences for generations. By setting up a Charitable Remainder Trust, Lyn and Mike will not only receive lifetime income and tax benefits but will also provide a generous Legacy Gift for the Symphony. We celebrate their spirit of philanthropy to secure great Symphonic music into the future.
If you are interested in creating a Legacy Gift for the San Diego Symphony or would like to learn more about Planned Giving, please contact Tania Batson, Director of Institutional Advancement, Planned Giving and Major Gifts at 619-615-3908 or by email at [email protected] .